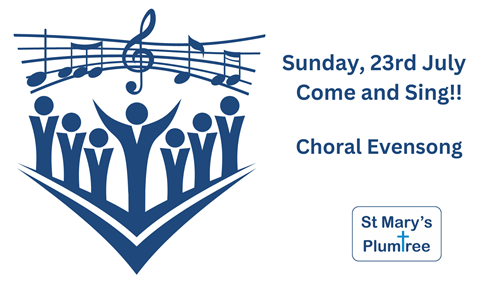 Sunday, 23rd July - Come and Sing!!
Added at 19:10 on 08 July 2023
Sunday, 23rd July – Come and Sing!!
Come and Sing Choral Evensong – everybody, as always, is very welcome.
If your Church does not hold a regular evensong service and you enjoy music and singing – this service is definitely for you!

Programme:
Introit
Sung responses – ferial
Psalm, Magnificat and Nunc Dimittis sung to well-known chants
Anthem
3 Hymns
Timings:
Meet at St Mary's from 3.30 pm
Rehearsal starts at 4.00 pm
Refreshments at 5.00 pm
Service starts at 6.00 pm

Come and sing as part of the choir group or as part of the congregation, or just come and enjoy a full sung evensong, we will be singing for the glory of God and having a bit of fun!

Please let us know if you are coming so that we can organise places and have sufficient music, If you have robes, bring them. Music packs available printed or by email (preferred).
Contact Martin Rhodes via email to book your place - martin@hhgbs.co.uk,
or contact one of the Church team – www.plumtree.church/contact-us